So Gentleman, you are new to the bearded world and you want to know the essentials to maintain your beard on a daily basis? You wonder how to make it grow in a healthy and robust way while avoiding the tightness of dry skin and other inconveniences like beard itch?
You are already an experienced beardsman and you wish to improve yourself by discovering the tricks of the best barbers?
Relax and enjoy these few lines, your beard will thank you 
PRACTICAL GUIDE FOR BETTER MAINTENANCE!
 
Wondering how to take care of your beard everyday, Gentleman? We went to interview beard professionals to reveal all their little secrets to you.
Indeed, being a supplier of beard grooming products to barbers allows us to have a privileged place to observe the problems they encounter, and make you benefit from the solutions and tips they find. A wealth that we wish to share with all gentlemen. You can also find the same products as in most of our stocklists here:
Selection of the best products
Personalized tips for each type of beard!
And yes, it is no longer reserved only for "hipsters" and the movement is democratizing (#Movember). So there are all types ... from a little "neglected" style to the most neat, with or without a moustache, long or short ... beards reveal your personality. It is a real asset of seduction, so all the more reason to practice good gestures on a daily basis!
Whether you have a 3 day or 30cm beard , what you need to remember is that it is well groomed! Especially if you want to avoid having an itchy beard, dry skin, dandruff, rough and damaged hair or an unkempt appearance ...
The maintenance ritual will be different depending on the length of the beard because we will meet specific needs:
On a

 

"short"

 

beard

 

 (from 3 days to 1 month): we will try to soften the hair as much as possible, while restoring tone to the epidermis.
 On a

 

"long"

 

beard

 

 (more than 1 month): the ideal is to strengthen the hairs and cleanse the skin underneath, allowing healthy and robust regrowth.
And whatever the length, we will strive to obtain a neat and elegant appearance by  tracing the contours 
Maintaining your facial fuz is therefore essential. Now let's take a closer look at how to make it fun every day!
1 - WHY IS IT IMPORTANT TO MAINTAIN YOUR BEARD?
Avoid beardruff and itching ...
All bearded men sooner or later encounter problems with skin that is tight, itchy, or that peel, revealing little dandruff that is not very sexy… It is a problem of hydration , which can be treated very easily
Indeed,  the skin of the face below the beard hair suffers and dries up. It is no longer hydrated enough and causes tightness, itching and other unpleasant sensations of dryness. And it happens very quickly! A few days without shaving are enough… so just imagine the state of someones face who lets his beard grow for a few months or years and doesn't take care of it!
Fight against dull and dry hair ...
In addition to itching and dryness, the other annoyance of a beard with little or no maintenance is coarse and dull hair .
Does this happen to you?? Well, it's because your hair is not in great shape! In fact, the more it grows, the more it needs to be nourished to keep it soft and supple. It's primordial!
Nourishing your hair will also give it a healthier and more elegant appearance. Thats what the difference is between a scruff bags beard and that of a gentleman!
Get healthy and robust regrowth
In addition to avoiding the small annoyances seen previously, the fact of maintaining your beard on a daily basis allows a healthy and robust regrowth of the hair. Needless to say, a healthy beard hair will be stronger and grow more intensely. If your goal is to grow your beard, or keep it at its current level, you will quickly understand that it is essential to have a fertile and quality "breeding ground"
Bring out your own character!
And yes gentleman, you will understand: a beard provides a presence, an additional charm ... enough to express his character!
Well-groomed and shiny hairs, clean and symmetrical contours of the cheeks ...  the beard reflects your personality . Like a piece of clothing or an accessory, it turns out to be one of the first things that people you see will see. An "external sign" which will give information directly to others. So it's up to you to see the image you want to send back!
Rather well trimmed beard? 3-day beard? Or much more bushy and wild? You can also choose to let your creativity speak with dyes for beards: if you have a grey beard, you can correct that easily by making it a little darker via colouring.
2 - BASIC RITUAL TO ADOPT FOR DAILY MAINTENANCE
We now agree on the need to take care of your beard, whether in terms of well-being or aesthetics, to express your personality.
But how do you get into action? How to do it concretely? Will I spend hours in my bathroom ...?
Rest assured,  the basic ritual of a bearded man is very simple and quick . And even if you want to maintain it perfectly, we have some tips and advice from barbers that will save you a lot of time
Take good simple, fast and effective habits!
The basic ritual for maintaining your beard is easy to remember: moisturizing your face and nourishing your hair is the bare minimum for bearded men who want to spend as little time as possible there. It takes 45 seconds every morning , all within the rules of the art:
Proper hydration

 

avoids the tightness and itching seen previously.

 

Hidden under the hair, the skin is the great forgotten thing of bearded people.

 

 

 It dries up and loses elasticity and vitality.

 

It must therefore be boosted by moisturizing it.

Nourishing the coat will

 

provide 

 

softness and a clean and elegant appearance

 

.

 

Indeed, growing, it moves away from the skin, the sebaceous gland and the blow of the sebum which nourishes it.

 

It is therefore necessary to remedy this lack by providing it with the elements necessary for its good health.
The secret of a good skincare ritual: adapted products
"Hydrate the skin and nourish the hair, ok, but how do we do that ?! "
Nothing could be easier, gentleman, enthusiasts have developed specific and perfectly adapted products: oil and beard balm .
The oil and the beard balm meet exactly this need: you will not only have beautiful skin, but also a silky mane of fur.
What is the difference between oil and balm?
The only difference between the two is that the balm, in solid format, will also provide light styling & shape, which will help tame rebellious hair!
The beard balm and oil have practically the same composition:  a base and a fragrance .
The base  is a  mixture of several vegetable oils  such as argan oil, jojoba oil or coconut oil for example. These oils provide everything the face needs to be hydrated, and the essentials to nourish and condition the hairs. The base of the balm also has a solid ingredient, such  as beeswax or shea butter , which provides the stiff styling effect.
The scent  of oil and beard balm is composed of essential oils  which will bring an awesome fragrance. Sweet, woody, spicy or floral ... these are the essential oils that will give the tone and character of the oil and the balm.
By the way: we prefer oils and balms developed from  natural and quality ingredients . Since this is applied to the face, it is better to favour higher quality products like we have here at Urban Beard
When and how to apply them on your beard?
Oil and beard balm is usually applied in the morning , after showering, to a beard that has been dried beforehand with a towel. One application every morning is normally sufficient. If it is really necessary, do not hesitate to also put it in the evening before going to bed.
 
Applying an oil or a beard balm is super simple and quick!  Here is the best method for your routine:
If you opt for

 

oil

 

, you just need to put a 

 

few drops

 

of oil in the palm of your hand, then heat it by rubbing your hands for 5 to 10 seconds.

 

Once the oil is heated and distributed in your hands, start to apply it by gently massaging the beard, from root to tip.
For the

 

balm

 

, it's just as easy and effective!

 

You have to take a 

 

small dab

 

of balm with your fingernail, heat it in the palm of your hands, rubbing for 5 to 10 seconds.

 

Once the balm has become "liquid", start to apply it by gently massaging the beard, from the root to the ends.
In our online store you will only find  premium products tested and validated by the Urban Beard team and our loyal customers . But among these little gems, we have our favourites:
 Urban Beard | Beard Oil 'Rebel'
If you are lost in the choice of products, you can take a look at our beard kits & boxes. Get a Beard kit to deal with everyday life and bring the best care to your face fuzz!
For short beards: the barbers' tip!
Oil and beard balm are perfect for maintaining your beard, as we saw earlier. But for  short beards , it may be better to use a beard butter which we have developed. The beard butter is more like a heavy cream which will moisturize your skin and condition the hair. It will leave you with a matte finish and without greasy hands.
3 - TAKE CARE OF YOUR BEARD: WHAT IF WE CLEANED IT?
Why

 
keep your beard clean?
Now that you know the basic ritual to nourish and hydrate your beard, do you want to go a little further? Excellent idea! Let's see how to further sanitize your beard by cleaning it.
 

"Is cleaning your beard really useful?" "
Like everyone (or almost everyone) you wash your hair regularly with "hair" shampoo. Well my friend, it's the same for the beard, but with shampoo "for beards"!  The beard needs to be thoroughly cleaned to stay healthy .
When you think about it, the beards are subjected to a lot of external aggressions every day : pollution, sweat, cigarette smoke, meal residue, beer foam, lipstick ... no need to dwell on the fact that it takes the full face and that it is necessary to clean it.
What is the best cleaning solution then?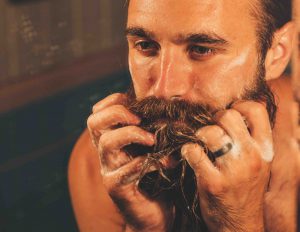 When we talk with other bearded men, we hear a lot of solutions to clean their beard: there are fans of Head & Shoulders hair products, those who swear by Dove soap… And now we have  followers of the shampoo bar for beards.
It is true that 6 or 7 years ago, apart from Head & Shoulders, Dove soap…, there  was no specific care for beards.  No choice then!
However, beard hair is different from head hair: they do not have the same structure. Ditto for the scalp which is different from the skin of the face… We therefore quickly realize that  hair shampoos and body soaps are not really suitable for the beard and the face.
Today things have changed! Thank you to the passionate beards, who, once again, have developed specific shampoos for the beard. They are composed of a subtle blend of natural oils such as Argan and Jojoba, and vitamin supplements to deliver the optimal combination to gently cleanse and hydrate your beard.
You just have to take the chance and try it to immediately feel the benefits:  clean and fresh feeling, softness of the hair, healthier and more elegant appearance ... To try it is to adopt it
As with oils and balms, it is best  to choose a product shaped with quality natural ingredients . Since it is still fairly recent, it is still a bit difficult to find a 100% natural shampoo ... but  we have 2 100% organic products.
Urban Beard | Cleansing Conditioner
Urban Beard | Shampoo Bar
How to apply your beard shampoo?

 

Usage tips
As a rule, a beard shampoo is used only  2 to 3 times a week .
Bonus tip: if you play sports every day or work in an environment that gets your beard dirty, you can plan for more frequent use 
It is used as a shampoo for hair: namely in the shower
So now that you know how to clean your beard, but also to hydrate and nourish it, let's see how to take the next step by giving it a worked and elegant style, with a nice outline!
4 - BEARD SHAPED & CONTOURS TRACED, FOR A CLEAN AND ELEGANT STYLE!
What gives your beard all of its character is its shape! A worked style, in harmony with the shape of your face. And for this, it is important that the lines of the beard are perfectly drawn!
Say goodbye to the rebellious hairs that wander anarchically on the cheeks or in the neck . It is time to trim them with precision in order to enhance your beard. Take a look at our Beard Tools to trim and help shape your beard.
Tracing the contours of the beard is an  important and delicate step, because it will give all the character. Shaping your beard will offer the  elegant and neat side to your image.
Hmm ... we've put a little bit of pressure on you right ?! Don't worry, you have a high quality ally you can count on!
5 - YOUR BEST ALLY TO CARE FOR YOUR BEARD: THE BARBER!
And yes dear bearded man, if  a beard is maintained simply and quickly on a daily basis as we have just seen,  only a barber will be able to create you a base of quality work! It is he who will advise you on the type and shape of beard best suited to your face.
To do this,  choose THE right beard professional. The one who will make you travel in his universe, while understanding your needs and desires. It is also him who will make concrete and visualize the character and style which you have in your head. Like an artist, it is  the barber who will sublimate your beard and give it all its presence. Suffice to say that you have an ally of choice!
His knowledge and know-how allow him to:
Visualize the beard shape that best suits your face  (hair, shape, etc.)
 Trim and enhance your beard down to the smallest detail
How to choose the right barber?
As you can imagine, choosing the right professional is therefore an essential step. A choice which is above all a question of man and personality. He must of course master his craft on the "tips", but also  correspond to your universe, your image and your values .
But again, you can be reassured bearded friend. In recent years, barbers have resurfaced to our delight. A new generation of barbers is emerging. A generation of craftsmen who have perfectly acquired and integrated the technical and authentic know-how of the traditional barber, while adding their own personal touch. The result is a real  updating of the know-how, by personalizing it with his vision, experience and desire ...  each thus creating a genre that distinguishes it.
Like artists, they leave a  style so unique and original that some are now assimilated to  rock stars! This is particularly the case for Leen & Bertus, the two famous barbers from  Schorem  in Rotterdam, considered by experts to be one of the best barbershops on the whole planet .
In Canada we have "Rock Stars" too!

 
The  dynamic and innovative barbers that highlight the Toronto know-how in all its splendor. True "Jedi Masters" who have shown the way for a new generation of passionate and ultra talented barbers ... Like the guys guys over at:
This  new generation of barbers  has assimilated the know-how of their "predecessors", and are now coming  to the fore with their own touch. Experienced barbers develop at high speed thanks to the quality of their work, such as the guys at:
A real gang of passionate barbers, with a strong character and unique know-how! 
In parallel, we find  more discreet and confidential barbers , but just as technically sweeping! Like the guys over at:
All these barbers are  rough diamonds  which become polished over time and which already illuminate the "Toronto barbershop" scene. The exciting thing is that this list of rough diamonds is growing every day
A "big up" especially for our local barbers who impose their "touch" on the virile and hairy world of barbershops. 
What is certain is that they stand out by their signature and skills in the matter. The barbers are in place and seem to be on course to impose their dexterity and expertise
We could spend hours talking about the evolution of the "Canadian barbershop" scene. But since this is not the objective of this guide, we will stop there…
So ... in the end, once you find YOUR barber, life is just a long, calm river. Just go and say hello and let yourself be pampered once a month. It's YOUR  moment of relaxation and rest . Leave your hair and beard up to him, travel in his universe and trust him. This virtuoso of the beard will be the most competent to sublimate  your facial hair. 
TREATING YOUR BEARD: SUMMARY OF THE BASIC STEPS!
So you see bearded friend, maintaining your beard is accessible with the right method, the right products and advice from the pros! It even turns out to be a moment of pure well-being: you will enjoy practicing the right rituals daily. An experience of character that quickly becomes addictive once you have tasted it…
If we summarize the basic steps  to have a nice beard:
It is advisable to first visit your favourite barber, in order to have a structured base.

Thereafter, you will just have to clean your beard with a suitable shampoo, and put an oil or a balm every morning so that it is in 

 

full health

 

.

Finally, a little razor on the cheeks and neck to keep the beautiful line of contours created by your favourite barber.
So, isn't the bearded life beautiful? 
Inspired to take care of your beard? Visits our store here:- Urban Beard
Want to learn more? Here are a few articles you maybe interested in:-